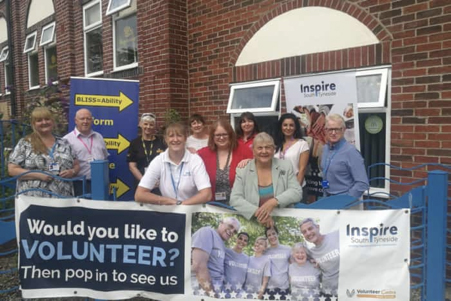 South Tyneside Volunteer Coordinators Reach Out to Volunteers
We had a fantastic day launching the new South Tyneside Volunteer Passport at the volunteer recruitment day at South Shields Town Hall on 22nd August.
We are delighted that there has been great interest in the Passport which is being be rolled out across the sector.
Almost a hundred attendees joined us which included members of third sector organisations and anyone looking for volunteering opportunities.  All were welcomed with a cuppa and biscuits and we were told that the buzz could be heard all the way to the entrance to the Town Hall.
The Deputy Mayor Norman Dick and Deputy Mayoress Jean Williamson and Fay Cunningham – Cllr for the voluntary sector, partnerships and cooperatives, and Tracey Dickson – Cllr for independence and wellbeing, mingled and enjoyed meeting potential volunteers and representatives from the thirty organisations taking part.
Comments received from both representatives of the many groups attending and possible volunteers included:
"Fantastic opportunity to network and gain knowledge of other services".
"Lots of fantastic services which we will be able to tap into".
"Very Good Event".
We would like to thank everyone involved in making this event a success.  Looking forward to the next one!