HealthNet Celebrating 2018
January 3, 2019, 12:00 pm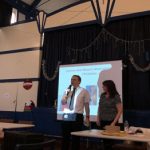 HealthNet on Friday 7th December – What a great wind down to the year.
As always, a very informative presentation from CCG giving members updates on Path to Excellence Phase 2.
The twelve months in the life of Your Voice Counts was hilarious with lots of interaction with members.
The Partnership and Extra Mile Awards presented by Carol Robertson to Tom Relph – South Tyneside Libraries and Derek Winter – South Tyneside Lifecycle Primary Care Mental Health Service was emotional.  Congratulations to both.